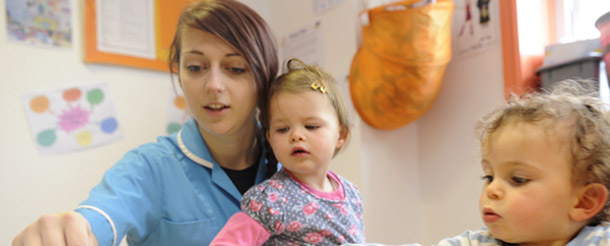 We don't register nannies, however you can apply for our childcare at home voluntary approval scheme.
How does the scheme work?
The scheme only applies to nannies providing care in Wales, although if you live in England or Scotland and look after children in Wales you can apply to become an approved child carer.
How much does it cost?
The scheme costs £96 for the first year. This includes the cost of an administration and Disclosure and Barring Service (DBS) check. If your personal documents are verified at the Post Office, you will have to pay an additional administration fee. Please let us know if you are subscribed to the DBS Update service. (External link)
You need to renew your application each year. The renewal fee for the second and third year is £55. Once you have submitted your application. fees are non-refundable.
How to apply
Complete the application form below and send it to:
Childcare Approval Scheme
Care Inspectorate Wales
Government Offices
Sarn Mynach
Llandudno Junction
Conwy
LL31 9RZ
Telephone: 0300 790 0126
Email: CIW.LlandudnoJunction@gov.wales
When you have submitted your application form
You need to contact us on 0300 790 0126 to make your payment over the phone. Please allow 5 working days for us to process your application before making your payment.
Benefits to parents
Greater level of reassurance that the person you are employing has met the minimum requirements, including an enhanced Disclosure and Barring Service check.
It provides confirmation that the person holds a recently acquired first aid certificate and a suitable childcare qualification.
You may be eligible  to receive  help with the cost of childcare through tax or benefit support when using an approved child carer.
For more information about eligibility visit the GOV.UK 'Help paying for childcare' site. (External link)
Benefits to nannies
You will be part of a scheme that is recognised across Wales.
You can demonstrate to employers that you meet the basic requirements for childcare including an enhanced DBS check, suitable childcare qualification and current first aid certificate.
What the scheme does not do?
The scheme does not verify that a childcarer is eligible to work in the UK. This is the responsibility of the employer.
It does not guarantee that parents will be eligible for financial support and this should be checked with the appropriate government department.