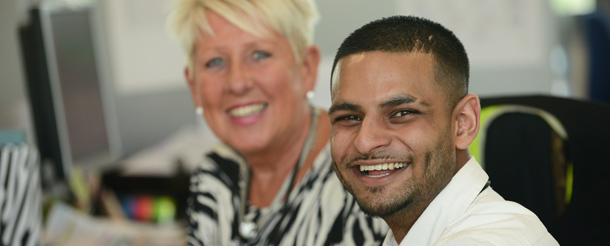 Information about our current vacancies and how you can apply.
Why you should work for us
Our teams are made up of professionals with different skills and expertise to ensure that social care and social services are safe for the people who use them.
Working for us can be a rewarding role whether you work in one of our regional offices with our registration, inspection or enforcement teams or our National office which includes our communications and corporate services teams.
Social Partnerships
We work with trade unions to be a fair and inclusive employer.
As part of the Welsh Government, the relationship we have with our trade unions is based on a social partnership. We believe our goals can best be achieved by management and trade unions working together.
Our 3 recognised trade unions are:
•    PCS (External link)
•    Prospect (External link)
•    FDA (External link)
Our Welsh Government trade union colleagues work together to give their members a real say in the workplace. They make sure that the interests of their members are promoted and protected. They also help reduce inequalities, improve terms and conditions and work with the Welsh Government on issues such as terms and conditions, pay, organisational change, policies and procedures. 
CIW is committed to working in partnership with its trade unions. We encourage staff to get involved. We support staff to join a recognised trade union, to ensure their voice is heard in the workplace and to learn more about trade unions and partnership working.
 
Current vacancies
You may also wish to view WeCare Wales (External link) – a database of social care and early years job opportunities.
Sign up to our jobs alert
If you are interested in working for us you can sign up to our jobs alert. When jobs are advertised you will receive an email about our current vacancies.